Weddings & Parties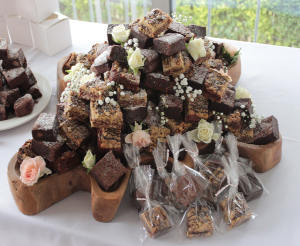 Tradition not your thing? We don't do wedding cakes we do wedding Brownies! A huge big pile of Brownies and /or Stickyjacks all dressed up for your big day with fresh flowers or berries.
Our Brownies and Stickyjack also lend themselves well to wedding favours.
What could be better than a delicious piece of Stickyjack or Brownie to take home? We can package in small boxes or bags customised for you on your special day.
Alternatively we can do beautiful cup cake tiers dressed in your favoured colour scheme.
Every wedding is unique, so do This email address is being protected from spambots. You need JavaScript enabled to view it. so we can discuss your requirements.